*This post may have affiliate links, which means I may receive commissions if you choose to purchase through links I provide (at no extra cost to you). As an Amazon Associate I earn from qualifying purchases. Please read my disclaimer for additional details..
Flowering trees can transform your yard into an ocean of colors when they begin to blossom.
They add beautiful white, purple, red, or pink colors to any yard regardless of the size.
You can have several tree blossoms in the fall, summer, and spring when your yard landscape is properly planned.
The trees can provide shelter, shade, or even leave you with a nice fruit harvest when they are not in full bloom.
In this article, we will be discussing different types of trees with white flowers.
We will also find out when they bloom and what zones they grow in.
Trees With White Flowers
1. Hawthorns
These small flowering trees produce pink, red, or white flower blossoms in early summer.
Hawthorns are popular flowing trees because of how hardy they are.
Hawthorns are covered by a cluster of white flowers when they blossom between late spring and early summer and then they produce different colors through the summer and fall.
They have pale yellow stamens with dainty oval petals.
The combination of the white flowers and dark-green foliage offers a fitting contrast to the trees' outlook.
Some popular white hawthorn variants include the thorn-less Winter King and the Washington Hawthorn.
In the summer, red berries appear with their foliage turning purple and then red before falling. Hawthorns are found in USDA growing zones 4 to 8.
2. Fringe Tree
This is a small tree that is native to the Eastern part of the United States.
Reaching heights of about 12 to 20 feet, it produces creamy-white flowers 4 to 6 inches long with fringe petals in May and June (late spring and early summer).
In the middle of summer, bluish-black fruits replace the flowers attracting birds. In the fall, the spear-shaped leaves become yellow.
Fringe trees thrive in moist soils. They are low-maintenance, and they can withstand urban environments and air pollution.
Fringe trees can be planted in small numbers or as individual trees on a lawn.
Fringe trees are found in USDA growing zones: 3 to 9. They are pretty hardy, however, in extreme winters, they may suffer frost damage.
3. Pear Trees
This fruit tree produces beautiful white flowers from middle to late spring.
When the flowers are in full bloom, the tree is engulfed in several clusters of pure white flowers.
Each flower has 5 small petals that measure around 1.5" (4 cm) across.
At the start of summer, once flowering is complete, pears start growing on the trees. By late summer to early fall, they are ready to be harvested.
Like apple trees, pear trees can grow around 12-20 ft. (3.6-6 m) in height.
Pear trees are found in USDA growing zones 4 to 8.
In general, Pear trees are cold and frost tolerant.
4. Japanese Stewartia
The Japanese Stewartia is a small-medium sized flowering tree with a bushy look.
It is native to Japan, and the bushy look is a result of several low-branching trunks.
The white cup-shaped flowers of this tree blossoms in the summer and measure around 3" (8 cm) across.
They produce a delightful scent and continue to blossom throughout summer.
The Japanese Stewartia require well-drained soil to thrive and can be found in USDA growing zones 5 to 8.
Members of this species are a bit sensitive to late frost.
5. Flowering Dogwood
Flowering Dogwood trees thrive in the shade. Their white blossoms appear in the spring, while the red berries appear in the fall.
Flowering Dogwood can grow up to 15-30 feet high and 15-20 feet wide, having an airy, multi-stem shape.
Some variants have pink flowers, but variants like Cherokee Princess Autumn Gold and Bay Beauty have white blossoms.
Flowering dogwoods are found in USDA growing zones 5 to 9.
A large proportion of dogwood variants are cold-tolerant. Some can even tolerate winter in zone 2.
6. Yoshino Cherry
Yoshino Cherry reaches a height of about 25 to 40 feet and grows 20 to 30 feet wide.
In late spring, the Yoshino Cherry produces a cluster of white blossoms.
This is followed by green leaves, which later turn gold or yellow.
Yoshino Cherry can be found in USDA zones 5 to 8.
This tree thrives in moist and well-drained soils.
7. Crabapple
If you like having white flowers every spring, Crabapples are good landscaping trees.
They are small to medium-sized trees that will reward you with a good crop of apples in the fall.
Crabapples trees grow to about 15 to 25 feet in height and 10 to 15 feet wide, with either a rounded, upright, or an open shape.
They can adapt to several soil conditions but prefer slightly moist and well-drained soil.
These trees start to flower in the middle of spring for about 2 weeks.
Crabapples are found in USDA growing zones 4 to 8.
Frost tolerance in Crabapples varies across the variants. But most of them do not suffer considerable damage from frost.
8. Japanese Crepe Myrtle
The Japanese Crepe Myrtle blooms its white flowers in spring.
They typically grow as tall as 20-30 feet and as wide as 10-15 feet. Japanese Crepe Myrtles are known for their open, multi-stemmed form and fluted, reddish-brown barks.
The tree reaches heights of 20-30 feet, is 10-15 feet wide, and is also known for having an open, multi-stemmed form.
Japanese Crepe Myrtle is found in USDA growing zones 6 to 9. It prefers full sun with moist and well-drained soil.
The Japanese Crepe Myrtle is frost-tolerant in zones 6 to 9.
However, they may suffer when temperatures fall below 0 F.
9. Callery Pear
This is a tree commonly used for landscaping. It can grow 20-40 feet tall and 20-30 feet in width.
Callery Pears are typically cylindrical and upright, and this makes them perfect for narrow areas.
In the spring, the trees produce white blooms. The odor from the blooms are not pleasant, and the branches of this tree tend to break in areas with strong winds.
Some cultivars of the Callery Pear include Capital, Aristocrat, and Autumn Blaze.
Callery Pears are found growing in USDA plant hardiness zones 5 to 8.
10. Carolina Silverbell
This small to medium-sized landscape tree is native to the southeast of the United States.
Carolina Silverbells typically produce white bell-shaped flowers in April (spring).
The flowers show up before the leaves or at the same time as the leaves.
Carolina Silverbells can grow 30-40 feet tall, with heights of up to 60 feet in their native habitat, the Appalachian woods.
In the fall, foliage is a beautiful yellowish-green color that drops early.
Rhododendrons and Azaleas thrive beneath a Carolina Silverbell.
Carolina Silverbell is found in USDA growing zones 4 to 8.
11. Giant Dogwood
A native of China and Japan, this tree is one of the larger trees of the Cornus species.
It can grow around 20-50 feet tall and 20-40 feet wide.
The creamy-white flowers blossom in May and June (late spring and early summer), then they are replaced by bluish-black fruit, which ripens towards the end of summer.
The Giant Dogwood is commonly used as a lawn tree, and the foliage in the fall is not notable.
Giant Dogwood is found in USDA growing zones 5 to 8.
12. Kousa or Japanese Dogwood
Although native to Asia, this tree has similarities with the Flowering Dogwood.
Its flowers bloom in late spring, and it has smaller blossoms and leaves, unlike the native species of the southeast.
The Kousa or Japanese Dogwood is found in nurseries across the country.
It is known for being anthracnose resistant, which makes it the top choice for disease control.
The size of the fruit of the Japanese Dogwood surpasses those of the Flowering Dogwood. The said fruit is edible to both birds and humans.
Kousa or Japanese Dogwood is found in USDA growing zones 5 to 8.
13. Kobus Magnolia
This is a small tree whose white cup-shaped flowers blossom in March (early spring) before the leaves appear.
The Kobus Magnolia tree grows slowly. When young, it is shaped like a pyramid. But it grows into a well-rounded form, which can be around 25-30 feet tall.
The seed pods open in the fall, which attracts birds. But the foliage in the fall is unremarkable.
This tree is usually grown as an individual tree on a lawn.
Since it grows slowly, it is planted in groups on large properties.
Kobus Magnolia is frost-hardy and is found in USDA growing zones 5 to 8.
14. Star Magnolia
Trees of the Magnolia varieties are some of the most attractive flowering trees you find.
The Star Magnolia is a spectacular white flowering variety. It is a small tree whose name comes from its star-shaped flowers.
Its white flowers have thin linear-shaped petals, which help produce a daisy-like flower shape.
In early spring, this tree produces a large number of nicely scented snow-white flowers.
Star Magnolia is found in USDA growing zones 4 to 8 and it is tolerant of winter cold.
15. Pagoda Dogwood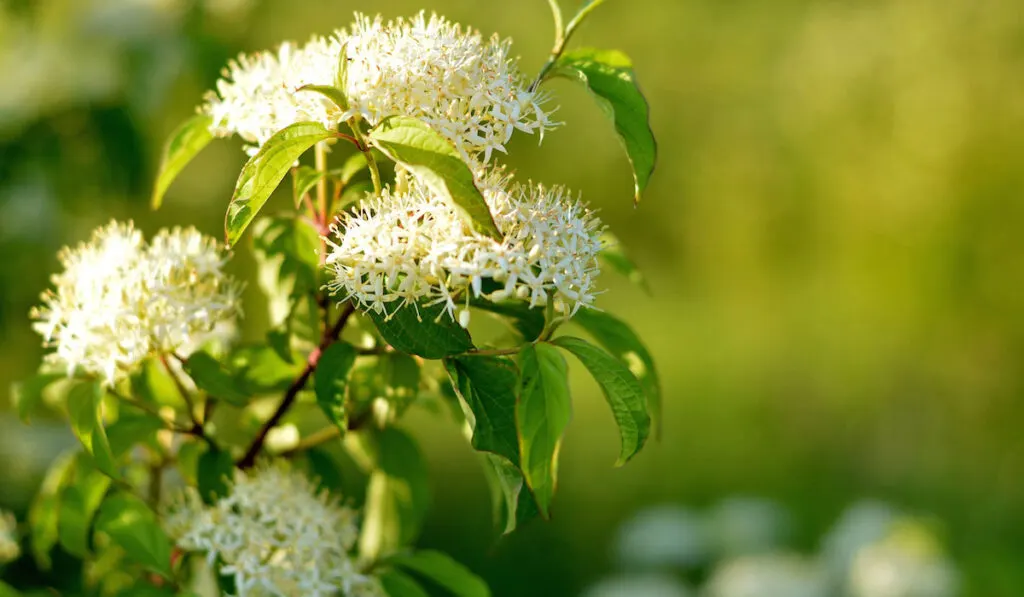 A native of eastern North America, this tree is known as the coldest hardy dogwood tree.
Its flowers bloom in small white clusters in the spring.
The Pagoda Dogwood has an unusual growth habit where the branches grow horizontally around the tree trunk, similar to the layers of a Japanese Pagoda.
Pagoda Dogwood is found in USDA growing zones 3 to 7.
Resources